About us
Sell your Car or Search for New & Used Cars for Sale
BuySellAnyCar.com is an online USA Car Marketplace for Buying and Selling New & Used cars.
Search the latest Cars for Sale or List a Car for Free!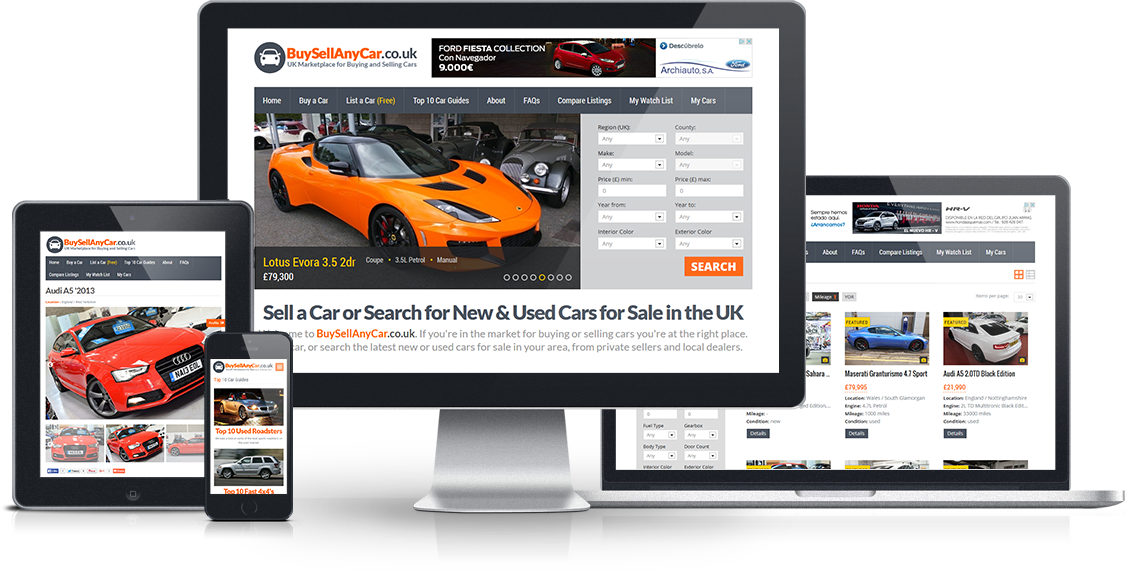 Buy a Car
Buying a New or Used Car in the USA? Search the USA Car Marketplace online at BuySellAnyCar.com
BuySellAnyCar.com are a fast growing Online Car Marketplace providing you with an ever increasing selection of cars from all over the United States, from private sellers, auto dealers and car showrooms. Search the Latest Listings of cars for sale in your area, or use our Advanced Search to narrow down your car search criteria.
Seen a couple of cars you like but can't decide which one? Use our Compare Listings feature to compare the specifications of your favorite cars. Simply tick 'Compare' on each car you like and then go to Compare Listings to see how the cars compare. You can also make sure you don't miss that car by ticking 'Watch List' under each item to add your selected cars to your Watch List.
BuySellAnyCar.com is designed to put buyers in touch with sellers, when you see a car you're interested in buying, use the contact form on the Car detail page to contact the vendor direct.
For further help with buying a car, you might want to view our Top 10 Car Buying Guides where we take a look at the top cars on the new and used car market, sector by sector.
Sell a Car
Selling your car? We've got some good news! You can list your car for sale on BuySellAnyCar.com for Free!
PrivateSeller
If you're a Private Seller you can now list your car for sale for Free for 30 Days! Get your car listed and out there in just a couple of clicks without spending a cent - it's no hassle, no cost, and no commitment. Just free, simple!
AutoDealer
Auto Dealers with larger stock may wish to open our AutoDealer account. This is a 90 day account with lets you list up to 100 cars and up to 200MB of images. All listings are published immediately and can edited in real time. Also included is 1 Featured Car listing.
DealerPro
Auto Dealers with rapid stock turnover may want to consider our DealerPro account. This 90-Day account provides you with the ability to list up to 500 cars and allows for 1.0GB of images. All listings are published immediately and can edited in real time. Also included with this account are 5 Featured Car listings.
Click here to Get Started.